"Stay 'unreasonable.' If you don't like the solutions [available to you], come up with your own."
Dan Webre
The Martialist does not constitute legal advice. It is for ENTERTAINMENT PURPOSES ONLY.

Copyright © 2003-2004 Phil Elmore, all rights reserved.
Quick Look: CRKT Ryan Plan B
A Brief Evaluation by Phil Elmore
---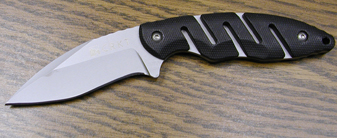 The Columbia River Knife and Tool Ryan Plan B is a sweet little fixed blade. While it can be used as a utility knife, this is another blade I would classify as a dedicated self-defense weapon.
The recurved blade is about three inches long. The stylized and contoured synthetic grips are very comfortable and in good proportion to the rest of the knife, keeping the overall package small and manageable.
The minimal plastic sheath with its attached clip is perfect for IWB (inside the waistband) carry. It is not too bulky, nor does it rattle or make other loud noises (problems that plague the issue CRKT Companion sheath). Fit in the sheath is smooth and retention is secure provided the knife is pressed against the body. I don't believe I would recommend using this knife as an inverted-carry neck knife.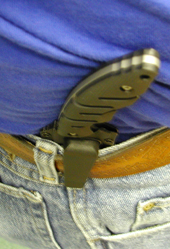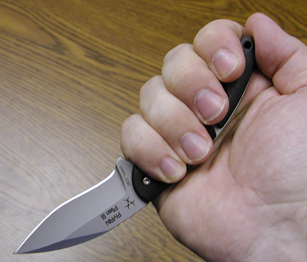 While the handle is small for my hands, the knife is fairly comfortable in either the forward or reverse grips. Like the Companion, however, the handle shape is not compatible with the point-down, edge in grip preferred by some.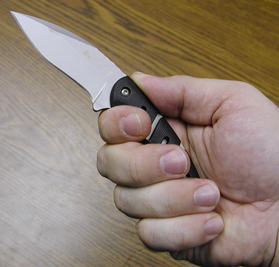 I've noticed that the keen blade sometimes takes little slices out of the interior of the plastic sheath, which is a problem with just about any knife whose sheath is made of ABS or a similar material. Kydex or Concealex would be preferable, but this would drive up the price. The CRKT line is known for its appeal to those on a budget.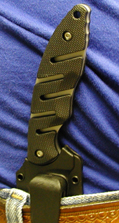 Not everyone may legally carry a fixed-blade knife for self defense. Those who can might prefer a knife that is a little large than the Plan B. If you're looking for a fixed-blade that isn't too large for you to carry comfortably, however, and you want something well-designed for IWB carry out of the box, the Plan B is a great choice.
Buy accordingly.