The Hideaway Knife
A Product Review by Phil Elmore
---
Her name is "FrontSight" and she makes knives.
Well, her given name isn't FrontSight (or FS, as she is sometimes known), but countless Web denizens know her by that penname. A business professional, FS has been remarkably candid about her own brushes with violence and the training path on which those put her. Along the way, a desire to master defensive knifecraft blossomed into a determination to innovate. The result was the Hideaway.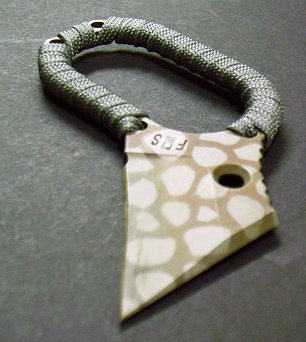 The Hideaway knife, a slim neck blade.
The original concept behind the knife was a blade that could be concealed by the ID badges many office workers wear on lanyards. The marriage of such an accessory to the "neck knife" concept seems only natural. In addition to bringing to fruition the concept, however, FS has displayed remarkable insight in working out the sales and order fulfillment processes that are a necessary part of acquiring a knife.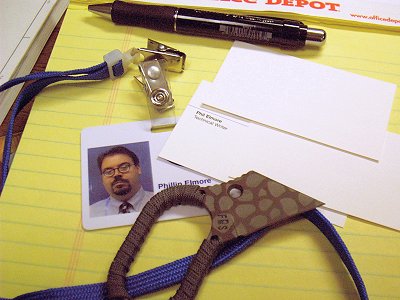 The Hideaway blending in among office paraphernalia.
The Hideaway knife website is not just a sales information page. It is remarkably interactive, allowing users to select a Hideaway from among several styles and then track the production status of the knife. Accessories available through the site include a a trainer knife and multiple sheath options. Among the sheaths available is an ID badge carrier.
After ordering a knife, buyers are e-mailed to choose from among the available finish options. When their Hideaways are finally ready, they're prompted to check out (and therefore pay for their new tools). My own knife has an artistic finish and the standard Kydex neck sheath (free with each Hideaway).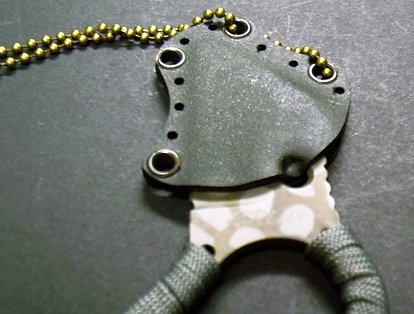 The Hideaway's Kydex sheath is extremely slim. There is no excess.
The small package that eventually arrived in my mailbox contained the Hideaway, a very nicely printed certificate of authenticity, an FS window sticker, a single adhesive bandage, and a piece of Life Saver candy (get it?). The implication of the bandage is clear – don't cut yourself.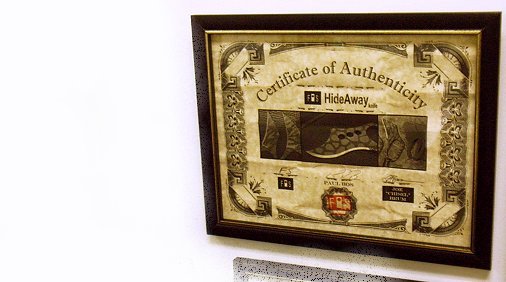 The Hideaway's certificate of authenticity looks nice on my office wall.
I was immediately impressed with the little knife. It is well made, visually appealing, and as streamlined a package as one could want in a defensive blade. My Hideaway has a straight edge, which I selected for ease of resharpening. The fascinating giraffe-pattern finish really sharpens the looks of the knife, while the gray shoelace handle wrap nicely complements it.
Hideaways are custom-sized to the buyer's index and middle fingers. The tailored fit provides a secure grip that aids in weapon retention. As a bonus, the user can open his or her hand without dropping the blade, which increases one's options in a self-defense scenario.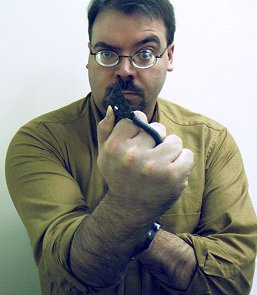 My Hideaway fits my hand perfectly.
The handle wrap is comfortable, provides adequate traction, and adds just enough bulk to the handle to make for a perfect fit for my hand. It is tied through two holes in the knife frame. There are two more holes that can serve as mounting points for a lanyard, though the knife did not ship with one (and I would not want a lanyard on it anyway). There's a little give to the wrap on my knife, but for the most part it's very tight. Obviously you could choose to re-wrap it with any material you like, from cored paracord to shoelaces.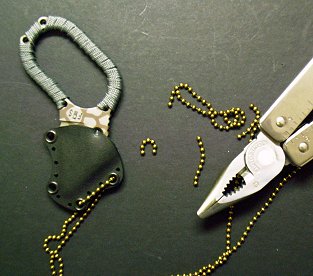 Resizing the ball chain to fit me was easy to do.
Fitted over the fingers, the Hideaway feels very natural in a forward grip. The thumb ramp serrations are rounded and even. I would prefer deeper, more angular serrations for even better purchase, but that's my own peculiarity (and one I mention in countless reviews).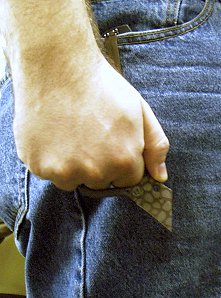 The Hideaway clutched in my mitt.
The Kydex sheath is as slim as possible, which is appealing for neck carry. The Hideaway is secured by flanges that grab a hole cut into the blade. It releases easily (though I had a little trouble at first when trying to get it lined up to "holster" it). The single point of retention means it will shift a little within the Kydex if you try to move it, but I don't see this as a problem and it does not move on its own.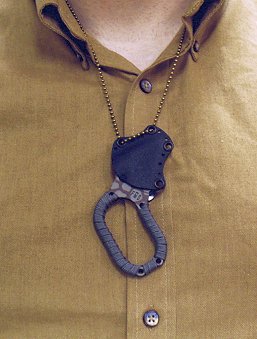 The Hideaway ready for deployment.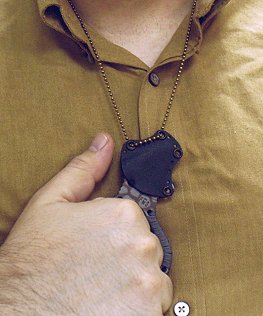 The fingers naturally index the custom-sized loop.

Draw into a forward grip is easy and fast.
When my Hideaway arrived I opened the package at my local mail drop service, where the staff knows me very well and handles the extraordinary volume of post I receive as publisher of The Martialist. One friendly lady watched as I removed the knife from its packaging.
"What's that?" she asked.
"A self-defense knife. You wear it around your neck," I told her.
"That tiny thing? What could that do?"
I stepped back, the knife in my hand, and ran through several tight angle patterns in the air, slashing and checking an imaginary opponent. She backed up a step and actually gasped. I wish I had it on video; she couldn't have made a better theater-grade intake of air if I'd asked her to do it.
"Oh," she said.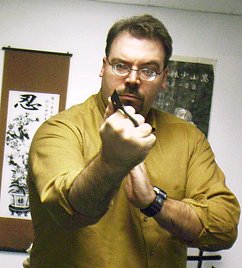 The Hideaway may be small, but it's powerful.
This is easily one of the best neck knives I've owned in a long time. As a semi-custom blade it obviously isn't cheap, but it's a well-designed, well-executed piece whose elegant form follows its ruthless function. I strongly encourage you to explore the Hideaway option if you're in need of a neck knife for concealed carry and self-defense.
When you contact FS, tell her The Martialist recommended her.