"Stay 'unreasonable.' If you don't like the solutions [available to you], come up with your own."
Dan Webre
The Martialist does not constitute legal advice. It is for ENTERTAINMENT PURPOSES ONLY.

Copyright © 2003-2004 Phil Elmore, all rights reserved.
Quick Look: CRKT Companion
A Brief Evaluation by Phil Elmore
---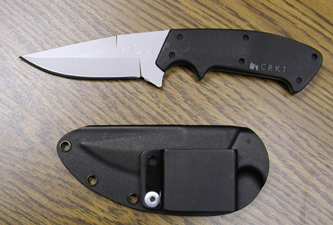 Sheath shown comes from On/Scene Tactical.
The Columbia River Knife and Tool Companion is one of the best deals in self-defense knives of which I am aware. Designed through cooperation between CRKT, Al Polkowski, and Bob Kasper, this inexpensive fixed-blade has the right features and is of the right size for every-day carry of a defensive knife.
The 3.5 inch AUS 6M blade and synthetic handle combine for an overall package of about 8.5 inches. Out of the box, the Companion was nice and sharp, cutting and moving well through paper, plastic, and cardboard.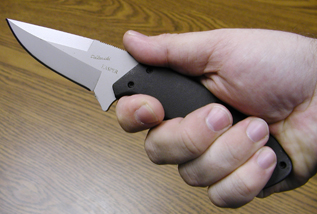 The handle is very comfortable and designed for a very secure grip and draw, thanks to the precisely located protrusions. While this means the knife is not compatible with a point-down, edge-in grip, it is great for the edge-out reverse grip and the normal forward grip. Grooving on the spine of the blade provides a comfortable spot for the thumb during cutting.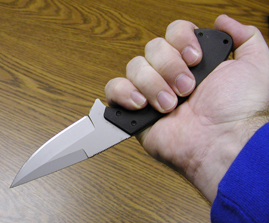 One of the biggest problems with the Companion, despite all its great qualities, is that presented by the issue plastic sheaths. From the factory, the Companion has a sheath that can be configured for IWB (inside the waistband) carry and another that can be used as a neck sheath. I find the Companion much to large and heavy for neck carry. I also find the IWB sheath to be too loud and bulky for proper daily concealed carry.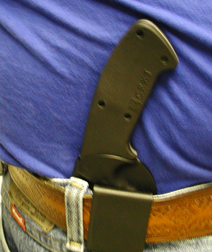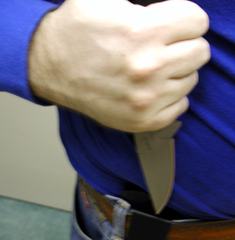 To solve this problem I obtained a custom IWB sheath of Kydex. My sheath was made for me by On/Scene Tactical. It is configured for an edge-out reverse grip draw, which is extremely fast and agile with the Companion. With the knife and sheath used together in this manner, I could not be happier with the package.
If you want a good-sized but inexpensive fixed blade for self-defense, the Companion is one of the best choices available. If you prefer a tip-down, edge-in grip, I would go with the Cold Steel Kobun.
If, however, you prefer your edge out, the Companion is a great alternative.